Rebecca Kordesh, Director
Twitter | Blog
In Backroom Whispering Production's inaugural book review podcast about Sabaa Tahir's An Ember in the Ashes, a major complaint lodged by several participants in the discussion was that the book had been so hyped that it was especially disappointing when it fell short of expectations.
Our very own showrunner, Dorothy McQuaid, also wrote a post about the effect hyping can have on reading a book. Dorothy focused on friend hype — hearing people you care about tell you that you absolutely need to read a book and it's "the best ever" — and how she's found that, generally, she has been disappointed by these books. The question arose about whether hearing about someone else's excitement might actually hurt your book experience overall, because when you are not as excited as your friends, it makes the book feel even more disappointing than it might have otherwise.
While I certainly agree that there's something to this, I'm also the kind of person that likes to ride on the back of other people's excitement. While I don't love everything that's highly
recommended to me, or every book that seems to have generated some general cultural excitement, I do love it when I love a book that someone else thinks is the bees knees. It's fun to freak out over something and have people to share that with, so I find that I do tend to seek out books that have been heavily recommended to me by friends or that the general internet book reading community seems really psyched about.
Recently, I've become a big fan of reading "Most Anticipated" lists from various sources to identify which YA books I'm going to spend my time reading. Young Adult (YA) is quite a prolific genre, and I often find myself totally overwhelmed in YA sections of bookstores because so many of the titles sound so similar, a lot of covers look relatively the same, and there are just so many books that I don't even know where to begin. I've given up on "best of"-type lists because they are so subjective, and too often I strongly disagree with them.
But "most anticipated" lists, from sites like Barnes and Noble, TeenVogue, Bustle, and PopCrush, tend to be more compelling to me.
From what I understand, "most anticipated" books get the title when there's a lot of  buzz around them, either because they are by an author that is a bestseller, they are part of an already best-selling series, or the cover is so good that the people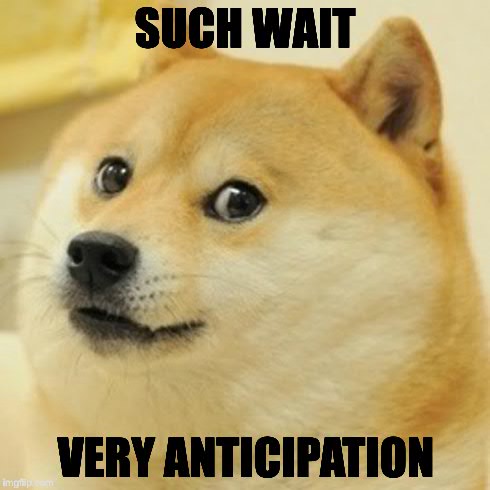 who write the articles are sure that these books are going to be a hit. It's a kind of positive feedback loop: people like me read these lists and choose books to read off of them, which gives them sales to back up the hype, which only makes the hype greater. In many ways, the articles are creating the hype rather than reporting on it — but, hey, Capitalism.
The five books I'll be discussing in this post all appear on several most anticipated lists and managed not to disappoint me.  From where I stand, this is a really big deal, since I can be somewhat of a grouch, particularly with YA. I may be less grouchy than several of my peers, but when I dislike a book I am not afraid to say it, and more often than not I find myself feeling very "meh" about the majority of YA books I read. (And yet I keep reading.)
Three of these five books exist in already bestselling series that I enjoy, so it's not generally a surprise that I was a fan of them. The other two were the beginning of two new series, one by an author I'd never read, one by an author I'd enjoyed before. Here goes.
The Raven King, the fourth and final book in the Raven Cycle, topped my personal list of most anticipated and was one of those that I got excited about every time I saw it on someone else's list. The Raven Cycle is probably my favorite series that was written in the past five years (OK, it is), and my need for this book was strong. It did not disappoint. While I think some people hoped it would end with more of a bang than it did, I felt like it was really the perfect conclusion to an incredible series, filled with all the things that made the Raven Cycle so good, at once an echo of everything that I loved about the series and a story that could not exist without the groundwork the previous novels had laid. Overall, definitely a win. Highly anticipated, highly appreciated. Score one for Stiefvater.
With Lady Midnight we're in slightly different territory, as you'd never catch me saying the Shadowhunter world is one that is particularly well-written. If I chose to sit down and pick apart these novels I'd have no trouble mutilating them. But I don't chose to do that because, despite myself, I find I rather enjoy them and would prefer to just have fun with them and let myself be happy for a little while. Lady Midnight is very "Clare": a new classic installment in a very established world, complete with familiar characters and similar themes to The Mortal Instruments and The Infernal Devices. It's one of those books that it just sort of candy for people that love the world Clare has created, and since it was likely anticipated by an audience that is very familiar with Clare, I'm guessing I'm not the only one who was pleased overall.
Really the same thing goes for Sarah J. Maas's latest, the second installment in her A Court of Thorns and Roses series. I have a love-hate relationship with this series because the writing flaws, especially early on, almost turned me off of both books for good. I came close to not finishing  A Court of Thorns and Roses and almost put A Court of Mist and Fury down in the first 100 pages as well. But I ended up sticking with both and allowing myself to be swept up in them, and sometimes I think maybe Maas is a genius because my intellect knows that what I am reading has so many issues on so many levels, but everything else in me eats it up like it's my last meal. The nice thing about A Court of Mist and Fury was that it was one of those rare sequels that is actually superior to its predecessor in pretty much every way. It was one of those books that I cautiously anticipated, then happily basked in the experience of. A guilty pleasure is still a pleasure, no?
Goodman was already a bestselling author with her Eon duology (Eon and Eona) which I loved, so even though this book was a trip into a very, very different world, I was majorly psyched. And I really enjoyed it. I love Goodman's style, I love a little history in my fantasy, and I was just absolutely buying what she was selling in this one, which made me happy about the hype. I was anticipating this, other people were anticipating it, I read it, I loved it, I found reviews on Goodreads from people who also read it and loved it. Generally there was much joy. Huzzah.
Passenger by Alexandra Bracken
This was not Bracken's first book, not by a long shot. She's another previously bestselling author, which is likely why Passenger showed up on so many "most anticipated" lists, but I'd never read anything by her so I was interested entirely based on the premise: time-traveling pirates. I mean, come on. This was another win, though I think it falls somewhere between Lady Midnight and Raven King for me in terms of execution. Basically, I had issues with some of the writing and felt there were certain unnecessary cliches present, but the overall was so dang good and so dang fun that I just let myself love it and I feel no shame. I'd recommend this one the whole world round.
At the end of the day, I think the strength of the "most anticipated" list over "best of" type lists is that the people who write those articles do not have to have read the books. These are book lists of books that are not yet released, which means all you have to know in order to feel confident placing a book on a "most anticipated" list is that people have loved that sort of thing in the past. Author, series, general premise — if it's sold like wildfire before, odds are this new thing will too. And those of us who come to the lists looking for our next big read don't look at the books as books that are necessarily going to be great, cause no one said they were. They just said people want to read them, so people like me want to read them, too. Magic.
How do you feel about "most anticipated" lists, readers?
*Nota bene: All links to books available for purchase through Amazon are affiliate links, which means Backroom Whispering Productions receive a small percentage of the sales made through that link.